The Route:
Date: 17 May 2008
Route: Bapsfontein to Middelburg Ultra City and back
Distance: 229,5km
Riders: Mags and myself
Bikes: F650GS and DL1000
Today was only the second time Mags left our property on her bike (any bike for that matter) to venture into the big, wide world. Her previous rides were just on our property, circulating the house and a short 50km road trip between the rural towns of Bapsfontein and Bredell.
Almost ready to leave: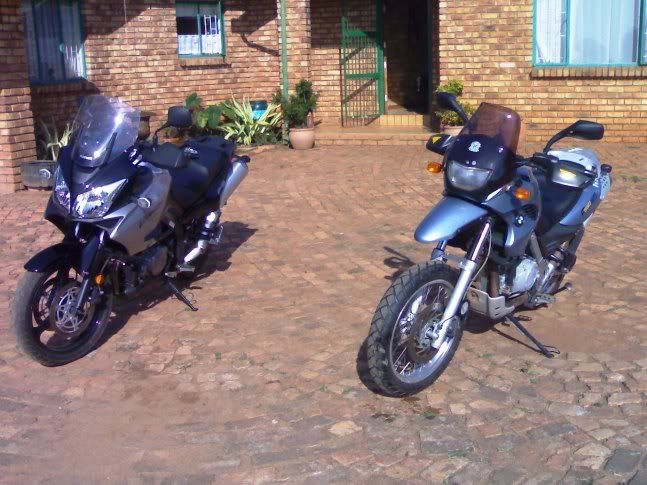 She was clearly extremely nervous and the the 30 odd kilometers from Bapsfontein to Bronkhorstspruit seemed like it took ages as she, initially seldomly exceeded 80km/h. As time and tar went by the speed lifted to a more speedy 100km/h and then the speed limit of 120km/h.
As soon as we hit the N4 highway at Bronkies, she insisted on a smoke stop. Her hands shook so much she never needed to shake the ashes of the ciggie! She was very determined to continue though .... and we did.
Paying our share of a palace with gold crappers in Dubai:
We hit the N4 for Witbank and the speed was now a respectable 120 all the way. We turned into Witbank to find a Wimpy or Steers. This was a mistake. The traffic was utter chaos and the shopping center parking areas even worse. Witbank drivers do not like each other! We decided to get out of there and we made a beeline for the Middelburg Ultra City. This meant we would be out of the crazy Witbank suicide traffic and have more freeway, but get ripped of at the tollgate twice! So, ZAR66 later we were on the Ultra City side of the tollgate. Crossed over the N4 at the Middelburg turn-off and made our way back to the Ultra City on the homeward bound side.
I dug into a Hero Roll with chips while Mags nibbled on a toasted sarmi. While there, some old bloke felt it is civil and Christian duty to come tell us all about some biker who splattered himself all over the back of a truck just up the road. Mags was back to shaking and stopped nibbling on the sarmi. After lunch we left, forked another ZAR66 at the tollgate and headed for home. By the time we made Bronkhorspruit I was seeing 130 on my speedo and I wasn't catching up to her.
A note to the Minister of Transport: Why do they seem intend on ripping bikers off at toll roads? Passing through this toll gate with a double cab bakkie, towing a trailer containing 4 bikes and 4 riders will set you back ZAR33. The same 4 guys on their bikes would cost a neat ZAR132!
Go figure???
Just arriving at the Middelburg Ultra City: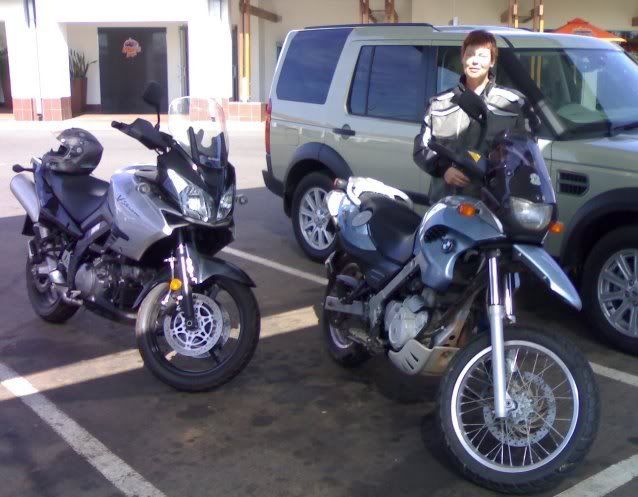 Kit in a wall at the Ultra City Steers
We arrived home safely at around 14:00 and Mags is like an oil sheik in the Northern Hemisphere winter. All smiles and hooked.
We will see what tomorrow brings ....